*Honorary Guest Member*--

Look for Interview Q&A Posted by May 6th

*
Shop Name:

Harriete Estel Berman
Owner:

Harriete Estel Berman
Location:

San Francisco Bay Area, CA
Shop Link:
http://www.etsy.com/shop/HarrieteEstelBerman
Harriete's Etsy Bio says it best about her (which I shall use as I can't find words dynamic enough to even describe her:)
HARRIETE'S ETSY BIO:
My work uses recycled tin cans to construct jewelry and teacups to entire lawns of social commentary.
My work has been shown throughout the United States, Europe and Africa. It is included in the permanent collections of fourteen museums including: The Jewish Museum, NY; The Museum of Art and Design,NY; the Jüdisches Museum, Berlin, Germany; the Detroit Institute of Art,MI; Museum of Fine Arts, Boston; the Smithsonian Institution,Wash.DC; Philadelphia Museum of Art, and the Columbus Museum of Art, OH. My work is also included in over 25 books including the cover several times.
Look on my website under "GALLERIES" and "UPCOMING EVENTS" to find current representation by Galleries, upcoming exhibitions, interviews on-line, videos and television.
htttp://www.harriete-estel-berman.info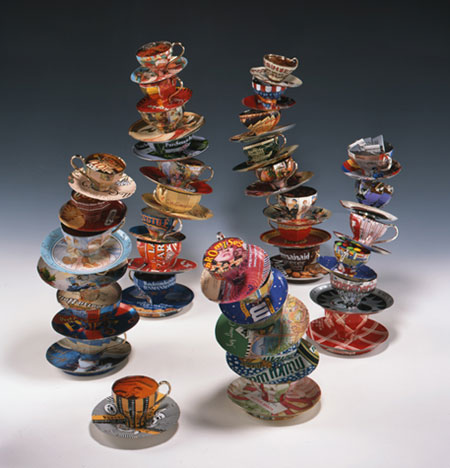 I also have a blog that offers professional information and advice to the arts community.
ASK Harriete offers advice to artists and craftspeople regarding career development issues. ASK Harriete your questions at:
http://www.askharriete.typepad.com/
.
HARRIETE ESTEL BERMAN
works with Don Friedlich and Andy Cooperman planning the Professional Development Seminar. The PDS is a SNAG conference program designed to offer students, emerging artists and established professionals information vital to establishing and maintaining a career in our field. Stay tuned for the 2010 program.
Currently, Harriete Berman is working with Andy Cooperman on the PROFESSIONAL GUIDELINES for artists to promote understanding, checklists, and practical solutions for recurring issues in the art and craft community. The PROFESSIONAL GUIDELINES are available as downloadable PDF files on the Society of North American Goldsmiths website at:
http://www.snagmetalsmith.org/Publications/Professional_Guidelines/
The Professional Guidelines can also be found at:
http://www.harriete-estel-berman.info/profguidelines/profguide.html
I live in the San Francisco Bay Area of California where I adopt many roles as a mother, daughter, wife, gardener, former taxi driver (for her children), exercise instructor, indentured servant to many volunteer activities and domestic goddess (just kidding).
In 2010, Harriete has been inducted as an *Honorary Guest Member* of the Etsy Recyclers Guild Team. This means she is welcome to all benefits of the team, but is not obligated to participate in any official way..... Harriete wears many hats in her professional career, and is involved in a plethora of previous commitments. We appreciate her time and expertise, and thank for being an inspiration to reclaimers, recyclers, metal-smithers, artisans, and eco friendly artists everywhere.