Black Jersey Blouse with alternative circular decorations $50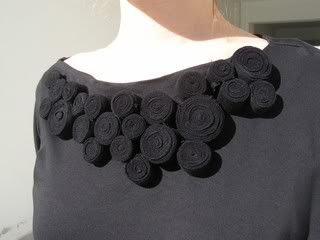 Shop name:
RE Recycled Fashion
Name: Giota Kaiopoulou
Location: Europe
Red Recycled Origami Clutch $55
Q. Tell me a little about yourself.

I'm a fashion designer. I always search for innovative elements in fashion so that I can excel and walk forward to new challenges and inspirations. I love art and nature. I studied Fashion Design in Greece and I have been exposed to public several exhibitions of art and fashion. I have also taken part in the 13th Biennale of Young Artists from Europe and the Mediterranean back in 2008 presenting my project- fashion collection "Origami Flowers". Recently, I have re-arranged this collection trying to transform it to foldable recycled plastic garments made up from layers of plastic bags. One of them in 2010, "Origami REvolution" has been exposed to the Center of contemporary art in Thessaloniki Greece. As you see I love origami and geometry very much because I find beauty in mathematics.
Q. When did you first start crafting/designing?
I remember me back to my teen years collecting several stuff, beads ,buttons, fabrics, clothes and all the vintage leftovers from my mama and friends. I still have a lot of stuff! At the time of my teenage years, I was mostly making jewelry and bags, handmade gifts for friends and family. I remember a year that I've made elements for the Christmas tree with packing paper and glitter it was a success we still use them!
Professionally I've started this past year to sell my first clothes and accessories to shops and e-shops.
Black A line Dress quilted in geometrical structures $75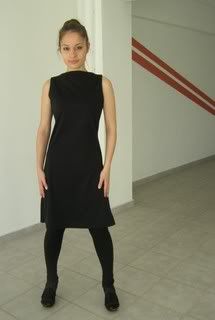 Q. Please describe your work in detail. What's your favorite type of crafting/art/design?
I start with inspiration that is the most important for me. I try to follow the trends and i draw some figures just to have an overview of lines that I will use as the basics to continue and materialize my collection. I keep this work in mind and then I visit some friendly ateliers, and other fashion businesses to look for fabrics or decorations leftovers that they were planning to throw away or they don't know what to do with them because they have such a small amount. I also buy stock or defective fabrics and second hand outfits of high quality that have something challenging and inspiring for my concept. Sometimes I try to collect cut outs of other garments and keep them for applique and other decorations. Some of my garments didn't need pattern making only sewing because I've used the ready cut outs and I've made with no more cutting a whole new outfit. I do not throw anything to the bin. Everything can be useful. Recycling fabrics amazes me in a way that a piece of cloth, a cutout leftover can always transform in strange ways and be whatever the shape that is left like...new strange decorations emerge like they knew where their position is and perform art! I only choose the beautiful position and then I sew! One the mannequin the cloth embraces the body and reinvents new shapes and lines using only the shape that is left. I love this procedure, fashion re-innovating in a chic and arty way is my passion. I love fashion, I love art. My new challenge is to draw on some leftover vintage silk pieces for summer, Ι'm thrilled to finish!!!

Q. How has your work evolved from your earlier work?

I'm always trying new ways to work with different supplies. Quality razed through the years with the good searching of supplies. I'm more feminine now in my collections and more commercial. My clothes are for everyday, but many of them are formal too. My earlier works were mostly art, fashion art craft, but now I think I cover more people with my lines that are wide easy and fit plus sizes. Designing one sized outfits was a big challenge for me but I'm hearing good feedback.
Q. Where do you get your inspiration?
I'm following trends in fashion and accessories mostly with books and internet. I look up for innovative news in architecture, design, art and illustrations. I'm following blogs and designers just to get inspired. Anything geometrical and mathematical draws my attention. I love them! My great love is nature. Nature is the one and only inspiration that includes mathematics geometries. It's the primary way of constructing things creating beauty. Origami shows the way that nature creates. That's why i love it so. I always try to draw inspiration from nature's structures like scales, flowers, marble water or cymatics. I try to research the theme I'm interested in and I collect a lot of pictures. I always make a concept board to refer to that keeps me in trends and in my inspiration.
Black Top/Dress Interlock jersey with Boucle insect decoration $54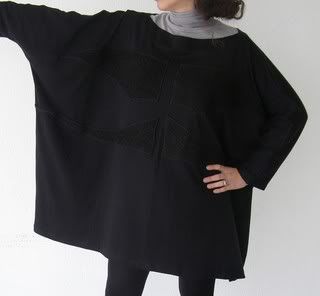 Q. Where are your products sold(online/stores)?
I sell most of my items in local fashion shops for now. I recently opened my Etsy shop. I hope it will go well!
Q. What advice can you give other crafters when selling their items:
About Etsy, I'm not a specialist, but selling needs a lot of promotion. If you don't have the outstanding things to sell with connections and a lot of exposure in craft fairs, posting and talking about your work, things start happening. Sometimes the work itself speaks and all you need are some customers to start and others speak for you. The most important thing is to have the concept and the way to accomplish great innovative things. Sales will come sooner or later. But, keep in mind that your concept must have it's own audience. Try to calculate what your audience will like and have the money to buy your concept. Be realistic.
Q. Describe your self in three words.
RE, Innovative and love
Q. Is there anything else you'd like to share with us?
Challenge yourself. Everyday we walk one step forward to inspire others to a better and sustainable world with love and art!!! Don't stop dreaming!!! Don't stop sharing recycling ideas and art!
You can find Giota online at the following places:
Facebook
Flickr
and
Twitter
This post was contributed by Heather of
Texas Vintage Things
.