Caramel Orange Upcycled Computer Component Necklace $49.99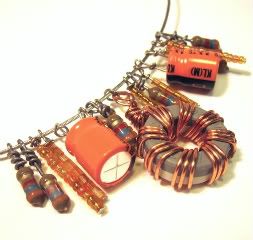 Shop Name:
Clone Hardware
Location: Hamilton, Ontario, Canada
Clone Hardware says, "After university (several thousand years ago) I decided to pursue a career in graphic & web design. But during the years of slaving / working in that field my creative energy was being slowly stifled.
Then one day I stumbled into the warehouse of Pothast Technologies, with boxes and shelves filled with beautiful and unique baubles, bits and pieces I had a lightbulb moment. I had never really been interested in conventional jewelry and with all these lovely and interesting things within my grasp I became inspired and empowered to create.
Clone Hardware was inspired by the constant influx of computer hardware and electronic devices that have entered our lives and sadly departed as well. The problem of e-waste has recently been the focus of many businesses.
With our partners, Phrenic Systems Inc. and Pothast Technologies we aim to extend and re-use technology as much as possible. By creating beautiful and unique pieces of wearable art out of what would otherwise end up in landfill, we hope to educate. Our landfills are still being overloaded with these products, and it's up to us to dispose of them properly and try to reverse some of the adverse effects on the environment created by this modern waste.
The majority of the jewelry I create is made from salvaged computers and electronics, some is surplus/unused parts."
Black Computer Ribbon Wire Upcycled Cuff with White Snaps $17.99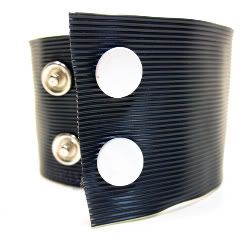 Clone Hardware's
shop banner states, "Kickass Industrial, Ultra Cool Steampunk, Super Spiffy Pretty, Simply Modern, Wearable Art Jewelry."
Copper Computer Hard Drive LOCK and KEY Pendant with Wire Necklace $25.00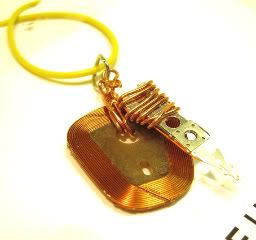 You can find Clone Hardware on
Etsy
here
, on Facebook
here
and online at their own website
here
. Lastly, you can find their blog
here
.
This blog post was contributed by Heather of
Texas Vintage Things
.