Lindsay Van Cleave is the mastermind behind
LC Vintage Jewelry
. She randomly created an
Etsy treasury
a few days ago and included one of my
1950s vintage brooches
. I took a peek at her
shop
and fell in love with so many of her pieces. I asked Lindsay if she would be interested in doing a blog interview and she gladly obliged.
Custom Vintage Brooch Bridal Bracelet $175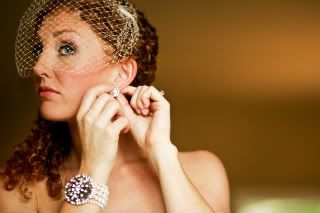 Photo taken by Tyler Wirken of
Wirken Photography
Q. Tell me a little about yourself:
My name is Lindsay Van Cleave, I currently live in New York City where I work in advertising and am passionate about developing my jewelry business, LC Vintage. I have loved design and crafts since I was a little. I was always the girl who had a special craft to make as a party favor for all my birthday parties. My designs are inspired by vintage fashion and my grandmothers – Ida, Constance and Sara – whose vintage jewelry I still wear today. I love the stories behind finding vintage pieces to blend with modern high-quality materials to create a new chic look that can be timeless.

Q. When did you first start selling/creating vintage jewelry pieces?
I have always been fascinated by vintage pieces, but started selling my jewelry three years ago by word of mouth and now I am working towards building a larger business.

Q. Please describe your favorite eras in detail:
I have always been fascinated by the 1950s. The polished ladylike look, beautiful jewels and big full skirts make me melt! My interest in the era was initially peaked by my Mom who talks about my Grandmother, Constance, who passed before I was born. My mom always talked about how she worked in a dress shop, was so fashionable and always wore the big beautiful full dresses of that era. I have been in love ever since! I think it's so lovely that during those days, people took time to dress up for the theater or even just a shopping trip. Since I live in New York, I always find it fascinating to Google pictures from New York in the 1950s to see how the women and men dressed. They just look so dapper. I love it! I use a lot of old pictures and jewelry advertisements from the 1950s as inspiration when designing my jewelry. Of course, I love when I can incorporate time pieces from that era into my pieces. The 1950s feels timeless, sophisticated and elegant.
Goldstone Brooch Triple Strand Necklace $50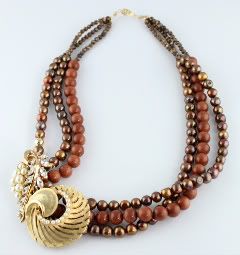 Q. Where do you buy your vintage items?
I try to support fellow Etsians by buying vintage brooches and odds and ends on Etsy. I also LOVE A grain of sand. They are based in North Carolina, which I have a sweet spot for since I went to college there, and they always have new unique vintage goodies for crafting beautiful pieces. I also like the thrill of the hunt at flea markets and antique shops. You never know what you will find.

Q. Where are your products sold (online/stores)?

My goal is to get into boutiques, but right now I sell ready to ship and custom pieces on Etsy and Wedzu. The links are below:
LC Vintage Jewelry on Etsy and
LC Vintage Jewelry on Wedzu
I also have a Facebook page if you want more behind the scenes peaks at my creative process. Besides jewelry, I post links and images that inspire me.
Seed Bead Vintage Brooch Necklace $130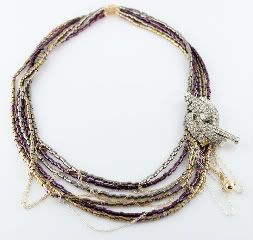 Q. What advice can you give others who are interested in selling vintage/vintage jewelry?
I would say to make sure you do your homework and research the time periods so you know what you are getting is good quality vintage items. If you like to create, mix and match vintage pieces to create a new look. If you want to sell a piece as is, just make sure you give buyers detailed information on the era so they know it's a reputable piece.

Q. Describe yourself in three words:
Personable, Ladylike, Fashionable
Q. Is there is anything else you'd like to share with us?
Along with the pieces that I design and create, I love doing custom work for Brides and everyday. It's always so nice to incorporate a family heirloom into a brand new piece that you can wear everyday or on a special occasion. I am getting married in October and am incorporating parts of my Grandmother's jewelry into my necklace to keep them with my on that day and also design something extra special for my walk down the aisle. Thank you for letting me share my story!
This blog post was contributed by Heather of
Texas Vintage Things
.