Good Ole Dog $110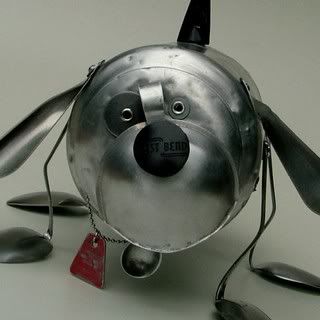 Shop Name:
The Recycle Ben by LEUCKIT
Name: Donna Provo Leuck
Location: West Lafayette
LEUCKIT says, "I became an artist when I was five years old. The draft sent my brother to Vietnam. I drew him a picture everyday. Unfortunately, they where all of "Bozo the Clown." He still has them so, they must be good. I have since broadened my horizons. I grew up in "the region." That is Northwest Indiana. I put myself through college. I attended The American Academy of Art in Chicago. I had the privilege of studying under some very awesome teachers (Mr. Dowdy, Mr. Thiery, Mr. Cushing, Mr. Parks, and Mr. Shapiro) and the privilege of learning along side some very awesome students. (Bobular, Steve Tarpey, John Figler, Nathan Greene, Amie' Lamair, Amy O'Brien etc.) I work from my home. I have a very patient and understanding husband and three very talented children. I do not limit myself to one medium. I love to take something that nobody has use for and reinvent it into an art piece that will be useful or at least bring a smile to your face!
Whose your favorite clown $110
Her shop announcement states, "Welcome!!! Thank you for your interest in my artwork. i love what i do. So, every piece i make is a labor of love. Hopefully you will see something you just can't live without."
It's Not Easy Going Green $110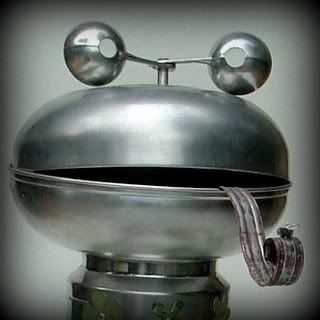 You can find The Recycle Ben by LEUCKIT on Etsy
here
and her blog can be found
here
.
This blog post was contributed by Heather of
Texas Vintage Things
.