Do a few things today to go greener!
1. Check with Earth411.com to see who in your area takes those old plastic grocery bags! On the East Coast you can take your old plastic grocery bags to Giant, where they will be recycled into new plastic items.
Along these same lines:
2. Use a reusable grocery bag for your shopping.
Petal and Sprig
on Etsy offers great oversized canvas totes for $30, which would go great at the Whole Foods Market when buying lots of items. The main complaint about the eco bags is they are too small. These are larger and big enough to take to the gym, the grocery store or shopping mall!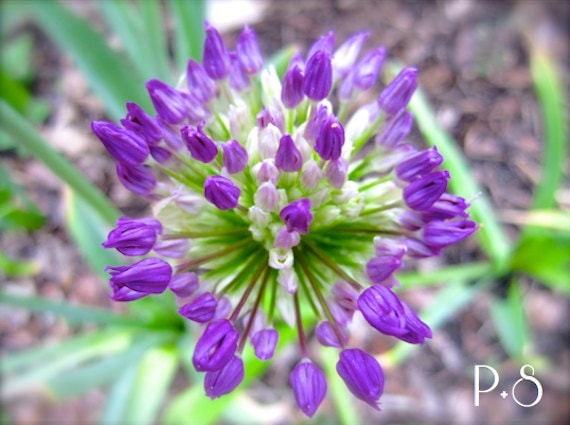 Petal and Sprig on Etsy offers lovely floral print of Allium for only $10. What a great gift idea.
For a gift:
3. Give flowers, but not the real kind. Why kill beautiful flowers, pay someone to waste gas and deliver them, when you can give the same with a lovely floral print photo? Petal and Sprig on Etsy offers $10 gorgeous close up floral photography in 4x6 size. These are are lovely accent decorations on the wall. You can buy a cheap frame for, and give the gift that keeps on giving----these flowers won't die, lose their smell or require water!
4. Use cloth napkins. Overall using cloth napkins will prove to be a way to reduce paper towel and napkin waste in your house. As for using more washing cycles, you have to do the laundry anyhow and these napkins can easily be done with your laundry and not take much more room.
5. Buy a watch that operates on natural movement and does not require batteries!
Have a great green day!