Go green!
It really bugs me that people give me greeting cards that aren't upcycled or recycled. Even the
DIY greeting cards
I give I know will eventually end up in the trash or recycler--all a waste of paper and my time, and money! Geesh!
I have found an eco friendly green solution not harmful to the environment.
Goodbye tree killers! Hello email ecards by Ojolie.com
Ojolie.com offers beautiful, animated ecards with tasteful music for birthdays, Christmas , Valentine's, and just about any other holiday or occasions you can think of. They are 100% eco friendly that you send via your email. No more wasted paper or killing trees. As you know not all greeting cards are recycled! Stop paying all that money in the store for someone just to toss them away within a few weeks. Give the gift of green by sending
ecards
! My favorite are the beautiful
birthday ecards
. The cat lays sleeping while the beautiful butterflies flutter around. Your message is displayed and brings a smile to the receiver's face. Not bit on cats? No worries, they have dogs too!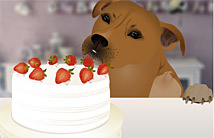 Courtesy of : OJolie Dog Ecard , animated dog!
Obviously, these screen shots can't explain how good they really look or the smile you will receive, but you can go and see how they work for free by clicking on any of the ecards at
OJolie.com